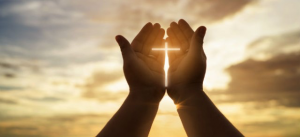 "They worshiped together at the Temple each day, met in homes for the Lord's Supper, and shared their meals with great joy and generosity…"
Acts 2:46 NLT
I have always been a 'big picture' person. I can see where I want to get to, yet the details of how to get there can leave me confused and I easily get lost. So ideas come easily to me, yet what value is thought leadership if it only ever carries me down a dead end? As with Abraham, the final destination is of less importance than the starting point. Without a start there can be no arrival.
When I began my morning prayer, it was not a place of deep encounter and inner joy. It was the result of a deliberate decision to be obedient to what I believed God had said to me. Mornings were cold, dark and unappealing. At times it was no more than pausing, lighting a candle and making a short prayer appealing to God for greater illumination from the light of Christ. I persevered, found an office of Morning Prayer (mainly psalms), discovered concentration was best achieved by saying then chanting these aloud and so a practice was established; a practice that was often hijacked by distractions, depression and at times, an overwhelming sense of meaninglessness.
This matters little in God's economy, for I learned these feelings and perceptions were all about me and I was seeking to honour God. The important thing I learned was that to make a start was essential. Without that start I was most certainly going nowhere. Each day I persevered – be it for two or 15 minutes, I established a pattern of behaviour which my whole being slowly grew familiar with. I discovered that repetition matters. Each day I took another incremental step towards my goal. My journey was towards a destination and each step mattered. Rising early each day, not only did I pray in some form, I also began to discover more of how to pray. I established approaches to prayer that suited my personality. Not always sure if I enjoyed this time, I was sure that I was learning and living in obedience.
QUESTION
Do you have a clear sense of what God is calling you to?
PRAYER
Lord, may every day draw me closer to that to which you have called me – the upwards call of God in Christ.