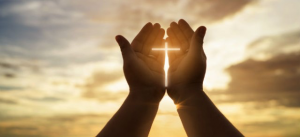 "After telling everyone good-bye, he went up into the hills by himself to pray."
Mark 6:46 NLT
The things we do when tired most likely indicate the things we want to do. Years ago when leading a church, I was attending a conference of like-minded congregations. The next day I was to work with a co-leader on a presentation around the Celtic Christian influence on church-based mission. Historical in part, its primary purpose was to invite churches to adopt critical elements drawn from the Celtic missionary movement and implement them as elements of missional discipleship.
Our learning had proved exciting and inspiring. As we stood talking that evening, my colleague reflected on St Cuthbert's practice of wading out into the sea to stay awake so he might pray to God. Our conference was on the coast so I suggested we follow in St Cuthbert's footsteps. We talked about it and decided to go to bed.
Wanting to do something is essential to its achievement. I question how seriously I wanted to embrace the way of sacrifice from which the missionary exploits of the Celtic missionaries were born. Jesus, after a day of travelling, teaching and ministry, repeatedly made his way to the mountain to pray alone. He wanted to fellowship with his Father.
Too often our desires are shaped by our environment. Here it was the platform and the opportunity to speak authoritatively about the Celtic mission to the British Isles that was the real desire within our hearts. I'd failed to grasp that they were missional only as a consequence of their radical devotion and obedience to God. I certainly imagined we might persuade through the quality of our presentation and force of human will within a worship setting. I was wrong.
QUESTION
In what way do you most want to grow in your following of Christ?
PRAYER
Lord God, you say you give us the desires of our heart. May my deepest desire be for you.