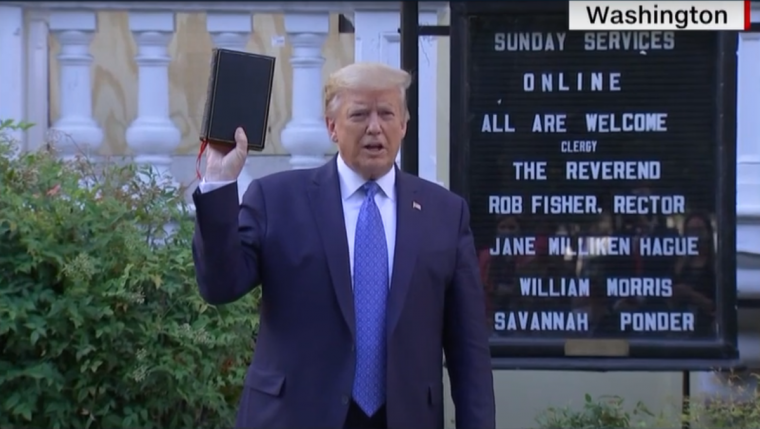 Support for Donald Trump has slipped in one of his core supporter groups – white evangelicals – although most still say they would vote for him.
A new study by the Pew Research Center found a 6 percentage point drop in approval from white evangelical Protestants between April and June, from 78% to 72%.
This mirrors a 5-point drop from US adults overall during the same period.
White evangelicals who say they "very strongly" approve of Trump's performance is down 8 points, from 67% in April to 59% now.
Nonetheless, the vast majority (82%) of white evangelical Protestants said they would vote for or lean towards voting for Trump if the 2020 presidential election were held today.
Only 17% said they would vote for Democratic candidate Joe Biden, with half (49%) saying he would make a "terrible" president and a quarter (26%) believing he would be a "poor" president.
Biden is not an attractive option for white non-evangelicals Protestants either, though, with only one in five (19%) saying they would back him. Only a fifth of white Catholics (21%) said they would vote for him.
This contrasts significantly with the 83% of black Protestants and 74% of Hispanic Catholics who said they disapprove of Trump. The overwhelming majority of black Protestants (88%) said they would vote for Biden.
Among black Protestant voters, only 8% said they would vote for Trump if elections were held today, with over half (54%) saying Biden would make a good president.
Among religiously unaffiliated Americans, three quarters (74%) said they disapproved of Trump and over half (56%) said he had been a terrible president.
Yet, less than a third of "nones" (27%) said Biden would be a good or great president, while 39% said he would be average and a third said he would do a poor or terrible job.
The latest poll findings come off the back of weeks of unrest in the US over racial injustice and dissatisfaction over Trump's handling of the coronavirus crisis, which has killed 129,000 Americans.
"Amid rising coronavirus cases and widespread protests over racial injustice, President Donald Trump's approval rating has dropped among a wide range of religious groups, including white evangelical Protestants – though they remain strongly supportive," Pew said.
DraggedImage.24fbb0c5a3ae41f78e9e852ffbd48fa0.png