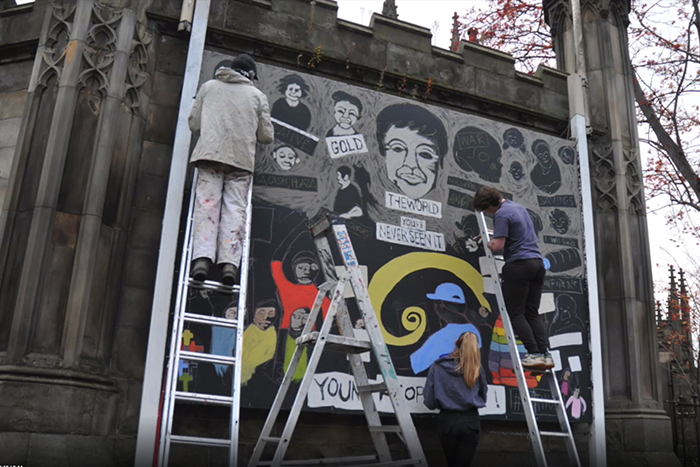 Budding young "Banksy" artists from the Scottish Episcopal Church have expressed their concerns and dreams through the creation of a huge wall mural outside a church in Edinburgh. A group of 29 young people from across churches in Scotland came together for a special "sleepover" in the city aimed to link up teenagers for a social weekend.
Claire Benton-Evans, youth and children's officer for the Diocese of Edinburgh and youth committee enabler for the province, said that St John's Church in Princes Street, where the young people were being hosted, had a tradition going back over 30 years of murals painted by a collective of artists on a wall outside the church.
She said: "we thought it would be a great thing having all these young people at the church staying overnight to see if we could invite the artist to come and work with them on designing a mural of their own."
Following a workshop with one of the artists, the concept of the mural was developed with the top of the image in monochrome to represent the adult world and the pressures of the adult world, as they perceived it. The images at the bottom in bright colours, represented things that were important to the young people, which ranged from climate change and the positives and negatives of computer technology, along with other issues.
Claire said: "the colours in the mural are growing-up into the monochrome adult world, representing their desire to take people of all ages with them. They wanted an inclusive vision. The slogan they chose was 'Young people rise' but adding in the hashtag #withus."
"We've seen that in the way our young people have taken part in climate protests and how adults have come in to support them and been there alongside them", she said.
Talking about the mural, one of the young people said: "it represents hope for the future. The youth are the bright colours, pushing up into the past things that maybe haven't been so good."
Claire said the hope was that the mural would inspire people of all ages to change the world for the better. In the corner of the mural the group had included the interlocking cross, which symbolised the youth from seven different dioceses in the province coming together as one.
She said: "this is the first time they have been able to say what they think in terms of art. Everybody really enjoyed the experience and it was good to try something new."
The mural will only remain on show for three weeks before it is changed for another image to comply with the listed building restrictions for the church. Murals by the collective of artists reflect current concerns and aim to be prophetic messages planned in conjunction with the church leadership.
DraggedImage.135858271ec84edcb27dea05d5d0ecd8.png