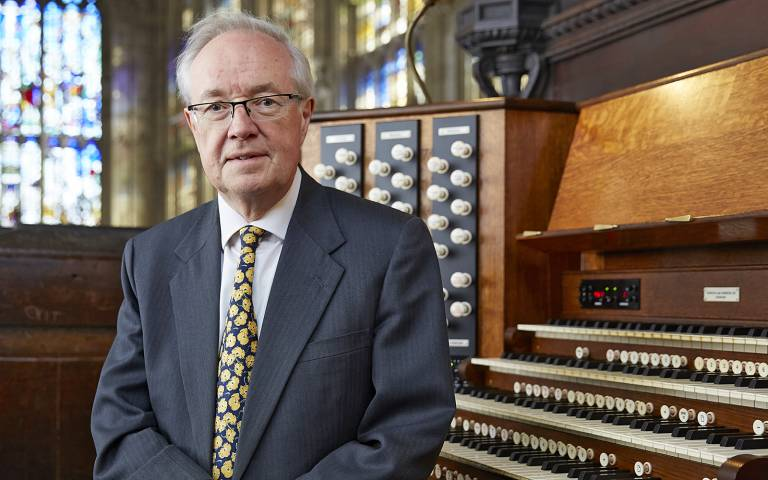 Photo – Sir Stephen Cleobury beside the organ of King's College Chapel, where he commissioned a new carol for the internationally famous Christmas Eve service every year
The neighbouring St John's College, Cambridge, posted the following tribute –
We are saddened to hear of the loss of Sir Stephen Cleobury, Director of Music at King's for 37 years and former St John's Organ Scholar (1967-71).​
After hearing the news, Andrew Nethsingha said: "We at St John's are deeply saddened to hear of the passing of Sir Stephen Cleobury. He was one of the giants of the choral music world during the past half century.
"Stephen was an inspirational mentor, teacher and friend. I am very grateful for all I learnt from him; I know that many hundreds of others feel the same way. George Guest, former Organist at St John's, was immensely proud that his Organ Scholar went on to direct the famous choir at King's. Like George, Stephen was never short of a good anecdote! Stephen's musical legacy will live on for ever, not least through his extraordinary discography. His dedication to contemporary choral music was second to none. He was much loved and we will miss him greatly.
"We send our condolences to Stephen's wife Emma, to his family, and to his innumerable friends and colleagues at King's and around the world. May he rest in peace."
King's College in its tribute stated –
Stephen was Director of Music at King's for 37 years and was perhaps best known for his direction of one of the world's most famous choirs. He was nevertheless influential in the music world far beyond the Choir, through his long association with the BBC Singers and the Cambridge University Musical Society. He founded the tradition of the annual commissioned carol for Christmas Eve which, since 1984, has made an invaluable contribution to contemporary choral writing. He introduced the highly successful annual festival, Easter at King's, from which the BBC regularly broadcasts, and, in its wake, a series of high-profile performances throughout the year, Concerts at King's.
During his long tenure, Stephen enhanced the reputation of the Choir and extended its reach by developing its activities in broadcasting, recording and touring. His influence as a teacher and role model to young musicians has been felt by thousands of singers and organists who have been Choristers, Choral Scholars and Organ Scholars at King's.
In December 2018, Stephen conducted the Choir in the 100th anniversary of A Festival of Nine Lessons and Carols, broadcast live from King's to millions of listeners around the world. Six months later he was knighted in the Queen's Birthday Honours for services to choral music, bringing tremendous pleasure to both the Choir and the College, and many more around the world whose hearts have been touched by Stephen's work.
The Provost of King's College, Professor Michael Proctor, said, " As Director of Music, Sir Stephen served this College with distinction for nearly four decades. On this truly sad day, the College community, and indeed many around the world, are mourning his passing with a profound feeling of loss. Our thoughts and prayers are with Sir Stephen's family and the Choristers and Scholars of our choir who worked so closely with him.
A book of condolence is available in King's College Chapel during normal opening hours until the end of the term, and an online book of condolence (link is external) is available on the King's College website (Link below). King's College will host a memorial service later this academic year.
[[] https://www.kings.cam.ac.uk/chapel/condolence-book ]
See also:
The Guardian
[[] https://www.theguardian.com/music/2019/nov/24/sir-stephen-cleobury-obituary ]
DraggedImage.e5d966e9d7a742c89ca43a4add6072b1.png