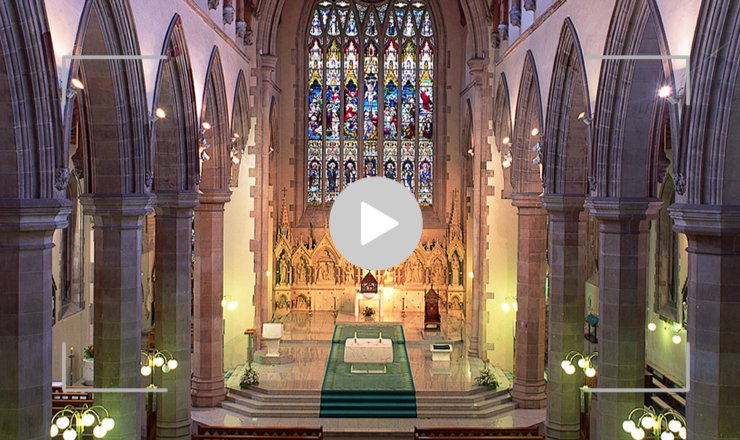 For Sunday, 29th March 2020
Sunday Worship BBC Radio 4 8.10am – 8.50am
Theme: Reconciliation in Difficult Times. Available after broadcast at:
[[] www.bbc.co.uk/programmes/b006qnds ]
Morning Service BBC Radio Ulster 10.15am – 11.00am
With 'The Priests'.
Available after broadcast at:
[[] www.bbc.co.uk/programmes/b007cphq ]
Sunday Worship BBC 1
10.45am – 11.15am
From Bangor Cathedral, Wales. Available after broadcast at:
[[] www.bbc.co.uk/programmes/m000h2sz ]
Service on Sunday
RTÉ 1 & RTÉ Radio 1 Extra 11.00am – 11.55am
A broadcast Service of Morning Prayer will be led by the Archbishop of Dublin, the Most Revd Dr Michael Jackson. Available after broadcast at:
[[] www.rte.ie/player/series/service-on-sunday/SI0000002989 ]
Songs of Praise BBC 1
1.15pm – 1.50pm
With the Archbishop-designate of York, Stephen Cottrell. Available after broadcast at:
[ www.bbc.co.uk/programmes/m000gxq8 ]
Choral Evensong BBC Radio 3
3.00pm – 4.00pm
From The Temple Church, London. Available after broadcast at:
[[] www.bbc.co.uk/programmes/b006tp7r ]
South East Radio – 10.00am
Morning Prayer Led by the Ven Ruth Elmes, Rector of Tinahely and Carnew Union of Parishes, Diocese of Cashel, Ferns and Ossory.
Community Radio Kilkenny City – 11.15am
A recorded prayer service led by the Very Revd David McDonnell, Dean of Ossory. Available online at:
[ www.communityradiokilkennycity.ie ]
RSCM – Hymn for the Day and Sunday Self – Service
The Royal School of Church Music (RSCM). In these times of social distancing and suspended public worship, RSCM has launched 'Hymn for the Day and Sunday Self Service' to help lift people's spirits. Scroll down at
https://www.rscm.org.uk/our-resources/hftd/
Anglican – Church of Ireland

All Saints, Antrim
[[] www.mcnmedia.tv/camera/all-saints-church-of-ireland-antrim ]Morning Prayers will be read at 9 am each morning Monday to Friday and again can be viewed via the church webcam
[http://antrim.connor.anglican.org/weekly-news/]
Christ Church Cathedral, Dublin
[[] https://dublin.anglican.org/news/2020/03/20/livestreaming-of-services-from-christ?utm_source=dlvr.it&utm_medium=twitter ]
Down Cathedral, Downpatrick
[[] www.mcnmedia.tv/camera/down-cathedral ]
All Saints Church, Mullingar
[https://www.facebook.com/mullingarunionofparishes.net/ ]
[[] http://mullingarunionofparishes.net/ ]
Holy Trinity, Rathmines
[[] www.htrinity.ie/resources ]
St Mark, Armagh
[[] www.stmarksarmagh.org/sunday-s-sermon ]
Christ Church Cathedral Waterford Eucharist 8.30 am
The Very Reverend Maria Jansson, The Reverend Trevor Sargent
[[] https://youtu.be/M4iR2DC4I_c ] or
[[] http://christchurchwaterford.com/ ]
Wexford 9.30 am
The Reverend Chancellor Arthur Minion
[[] https://www.facebook.com/pages/St-Iberius-Church/179189408802844 ]
Baltinglass Eucharist at 10.30 am
The Reverend Mairt Hanley
Also on Wednesdays at 8 p.m. Compline/Late Evening Office
[[] https://www.facebook.com/RevMairt/ ]
[[] https://www.facebook.com/baltinglassgroup/posts/2320219738053848/ ]
St Canice's, Kilkenny Eucharist at 11.30 am
The Very Reverend David McDonnell
[[] https://www.facebook.com/stcanicescathedral/ ]
Cloyne
Dean Susan Orr
Cloyne Union service will be livestreamed at 10.30am on Sunday on the Parish Union Facebook page, the service will also remain there afterwards.
[] https://www.facebook.com/CloyneUnion/
[]
Clontarf Parish – The Revd Lesley Robinson is live-streaming Morning Prayer each day at 10.30 from the Church of Saint John the Baptist
BBC Songs of Praise – clips
[[] https://www.bbc.co.uk/programmes/b006ttc5/clips ]
Organ recitals St Patrick's Cathedral
On Mondays and Fridays at 1.00pm the Cathedral Organists will be giving a series of short recitals on the Cathedral's mighty 1902 Willis Organ. Although the doors are closed you can still join online via the live streaming page
Programme details available shortly on the live streaming page.
[ https://www.stpatrickscathedral.ie/worship/video-stream/ ]
Resources to Support us in Challenging Times
Mothers' Union
[]
https://www.mothersunion.org/resources-support-us-challenging-times []
Anglican – Church of England
Canterbury Cathedral Eucharist and Evensong – Online at 12.00 and 17.30 each day for live streams of  Eucharist and Evensong
[ bit.ly/CantCathStream ]
Birmingham Cathedral
Communion in the kitchen – Join Birminham Cathedral's Canon Precentor for #CommunionintheKitchen this Sunday from 9am. Canon Josephine will hold Holy Communion from her home for the Fifth Sunday of Lent – Passion Sunday. Details at http://bit.ly/2Ullafq
Chester Cathedral Choir and Organ
In place of the Lunchtime organ recital series, the Music department has clubbed together to provide a weekly recital, recorded out-of-hours to continue this wonderful unbroken concert series. Each week, the recital will become available at 1pm.
[ https://youtu.be/EtBI96i0vP4 ]
Find out more about how the Church of England is responding to the challenge of becoming a "different sort of church" at
[ cofe.io/VirtualCofE. ]
Methodist
Wesley's Chapel in London will continue to livestream worship, adapted for no physical congregation. Service times as follows: Wednesday 12:45pm, Thursday 12.45pm, Sunday 9.45am & 11am. Alll of these services will be available online. Access here –
[[] https://www.youtube.com/channel/UCUAUqhmhevz5sqhh72LIMxA ]
Movilla Abbey Methodist Church services will be livestreamed on Sundays at 11am (More information to follow. Access here –
[[] https://www.facebook.com/movillaabbeychurch/ ]
24-7 Prayer Resource including a virtual prayer room, coronavirus prayer to pray, family friendly resource and more including a 60 minute prayer guide to help you pause and pray for coronavirus. Access here –
[[] https://www.24-7prayer.com/coronavirusprayer ]
Catholic
Here is the list of Parish Churches in the Diocese of Derry with webcams to watch & listen to Mass online this weekend. Mass times of each broadcast are detailed on each broadcast page.
[[] derrydiocese.org/mass-online ]
Holy Cross Abbey, Benedictine Monks Live Webcam Stream
[[] https://www.mcnmedia.tv/camera/holy-cross-monastery-benedictine-monks-rostrevor ]
Links to other parishes at [[] https://www.mcnmedia.tv/ ]
RTÉ broadcast of daily Masses
RTÉ broadcasts Mass every weekday at 10.30 from St Eunan's and St Columba's Cathedral, Letterkenny, on RTÉ News Now.

Mass will be followed each day by a short religious message from representatives of Ireland's other faith communities and Christian traditions.
According to a statement from RTÉ, the broadcaster will also continue to air a diverse range of Christian worship every Sunday at 11.00, on RTÉ One Television, RTÉ Radio 1 Extra/LW252 and, in Irish, on Raidio Na Gaeltachta.
RTÉ News Now can be accessed on Saorview (channel 21), Sky (521), Virgin Media (200), Eir (517) as well as via the RTÉ Player, the RTÉ News Now app and via RTÉ.ie/news. This content will also be available on the RTÉ Player, both live and on catch-up.
Image-1.24b0678fad5b44209ed06b6126e86dfd.png
DraggedImage.f4d281be325e465bbac627ce93829ffb.png